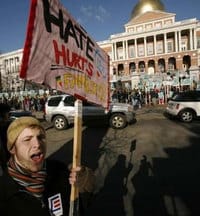 This is not good news.
With 61 voting to move the measure forward and 132 voting against it, Massachusetts legislators today advanced a proposed gay marriage amendment ban to a second legislative session, in which it will require another vote to get on the ballot. By law, the measure needs to be approved by at least 50 members in two consecutive legislative sessions to get on the ballot. With this vote, they achieved eleven more votes than necessary to move the measure forward.
This is a defeat for supporters of same-sex marriage in that state, who were hoping that lawmakers would avoid a vote on the issue entirely. Before the vote, hundreds of supporters and opponents had gathered outside the state house to voice their opinions.
From AP: "The vote Tuesday in the constitutional convention came without debate, immediately after Senate President Robert Travaglini officially opened the joint session. Earlier in the day, Gov-elect Deval Patrick had met with Travaglini and House Speaker Salvatore DiMasi to urge against a vote, calling it a 'question of conscience.' He said the proposed amendment was the first time the amendment process was being used "to consider reinserting discrimination into the constitution."
Civil rights should not be up for popular vote.