Thanks to Episcopalian minister Robert G. Certain, the late President Gerald Ford weighed in posthumously on the debate between gays and the Episcopal Church, and gays and Christianity in general. In his homily, Certain made note of a conversation he had with Ford at this church in Palm Desert, California: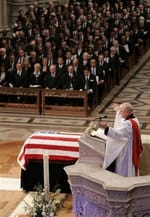 "He asked me if we would face schism after we discussed the various issues we would consider, particularly concerns about human sexuality and the leadership of women. He said that he did not think they should be divisive for anyone who lived by the great commandments and the great commission to love God and to love neighbor."
Deb Price of the Detroit News, who spoke with Ford over the years about his views on gays, has written him a thank you column. It's worth a read.
Incidentally, whether it was intentional or not, blogger Lane Hudson notes that while the children of the late President spent every hour of the public viewing in the Capitol rotunda greeting the American public, they were notably absent when the current president arrived:
"According to a Capitol Hill source, Bush is the only person to have the Rotunda cleared for his visit, bringing a screeching halt to the public's visit to the casket. Other former Presidents and political VIP's went to the front of the line, but nonetheless greeted fellow mourners while paying their condolences. Further, Bush reportedly spent only seven seconds at the casket and promptly left the building."
Not a Ford Republican, perhaps.
You may have missed…
Gerald Ford's Childhood Home: Restored with Gay Pride [tr]
Former President Gerald Ford is Dead at 93 [tr]