Memo to Tim Russert: Dick Cheney thinks he controls you.

Madonna throws shade, debuts clothing line.

After short program, Lysacek leads Weir at U.S. Figure Skating Championships. Weir: "I got close. I'm going to keep fighting. To be in second place at the national championships, even though I've won three, it's still a great honor. … It ain't over until the fat lady sings."

GLAAD's Neil Giuliano talks about Isaiah Washington incident: "Someone called earlier this week after seeing me on CNN and asked if I had any idea a week ago that this situation with Isaiah Washington would become such a big story. I had to honestly answer: yes. I knew the minute I saw it."

What we don't know: 42 of the biggest unanswered questions in science.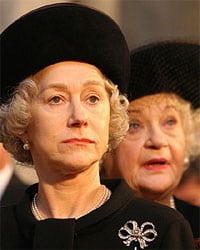 "(BLEEP) Bless You." The word "God" censored from The Queen for inflight broadcast: "The word God was removed seven times in all after an inexperienced employee of a California company that edits movies for in-flight entertainment was told to take out all profanities – including any blasphemy."

Dreamgirls headed back to Broadway: "Krieger said it was too early to discuss details about the revival, but theater insiders speculate that Oscar nominee Jennifer Hudson may be asked to reprise the role of Effie on stage." Bet Jennifer Holliday's thrilled with that news.

Convicted sex offender/gay porn producer Bryan Charles Kocis slain, torched in home (warning – site NSFW): "No formal suspects have been named, but Citizen's Voice is reporting that police have questioned three California men he was involved in a "business dispute" with, one of which presumably is Sean Lockhart. Kocis, 44, was best known for his complicated ongoing legal battle with Lockhart, better known as gay porn star Brent Corrigan, 21."

Mika to join Take That on tour?