In a dispute over $780,000, a State Supreme Court judge in New York has ruled that one couple's separation agreement is valid even if their marriage, performed in Massachusetts, is not.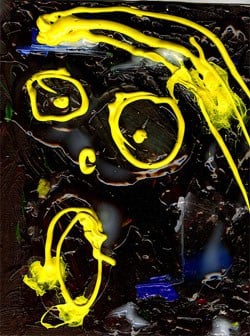 Art attack: Rosie O'Donnell posts painting of "Him" on her website, and as Rosie returns from vacation the feud takes a new turn.

Alan Cumming and Grant Shaffer's civil partnership ceremony included a rented ice skating rink where the couple had their "first skate" and was attended by Rufus Wainwright, Sir Ian McKellen, Geri Halliwell, Neve Campbell, Jason Isaacs, Mary Elizabeth Mastrantonio and Monica Lewinsky, according to E's Marc Malkin. Said Cumming: "We'd like to thank everyone for their good wishes and messages of support—they mean a lot to us, not only as a celebration of our happiness but also a celebration that two men actually can get married and have the same civil rights as any straight couple. We really hope that soon gay people in America will be treated with the same respect as they are here in the U.K. America is really missing out. You know, the gays really know how to throw a party."

REPORT: French Vogue art director Fabien Baron dumped by Hugo Boss advertising campaign over excessive demands, such as "Baron's insistence that they travel in a black Range Rover for a shoot in Africa."

The first Presidential Debate of the 2008 cycle will be hosted by the South Carolina Democrats and House Majority Whip Jim Clyburn on April 26.

YouTube banned in Brazil over MTV presenter's sex tape.

Conservatives at Agape Press, funded by the American Family Association, can't believe that retired Chairman of the Joint Chiefs of Staff General John Shalikashvili would come out against "Don't Ask, Don't Tell" so they're calling his recent editorial on the topic a result of his recent stroke. Said one Servicemembers Legal Defense Network spokesman: "Even for Ms. Donnelly, her newest line of attack is an all-time low. To even insinuate that a four-star General is unable to reach his own conclusions about this issue is outrageous."