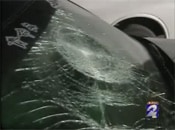 Tires were slashed and windshields shattered on over two dozen vehicles parked in a lot used by patrons of EJ's Bar in Houston. The vandalism happened early Tuesday morning between the hours of 2 and 3 am.
One victim, Ronnie Siebert, told Houston's KPRC News, "I really honestly do think this was a hate crime and that people are tired of the gays parking on their lot. It's really sad what has happened here tonight."
The parking lot is not equipped with surveillance equipment and police are asking for anyone with information to come forward and contact Crime Stoppers at 713-222-TIPS.
Gay Bar Patrons Find Vehicles Vandalized [click 2 houston]
Recently
A Mother's Fears as Gay-Bashing Killers Prepare for Parole [tr]