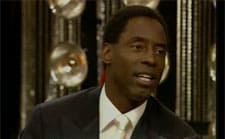 I wasn't aware they had rehab centers for bigots but Grey's Anatomy actor Isaiah Washington entered a "residential treatment facility" this morning, according to Life & Style Weekly.
According to their source: "ABC has told him he must enter a program to examine why he would say such hateful words."
Maybe some permanent time off would help Washington examine his words more closely.
UPDATE:
Grey's Anatomy creator Shonda Rhimes and Isaiah Washington release statements.
Rhimes:
"I speak for all the executive producers here at Grey's Anatomy when I say that Isaiah Washington's use of such a disturbing word was a shocking and dismaying event that insulted not only gays and lesbians everywhere but anyone who has ever struggled for respect in a world that is not always accepting of difference.
We've been working within the Grey's family as well as with ABC and Touchstone Television to address the issue in a way that underscores the gravity of the situation while giving us all a foundation for healing. We applaud and encourage Isaiah's realization that he needs help and his subsequent choice to seek immediate treatment for his behavioral issues.
We appreciate the support the fans have always given our show, particularly during this stressful time. Creatively, we continue to strive to make the best television we can with the hope that our show reflects the talent, hard work and professionalism of our cast and crew."
Washington:
"With the support of my family and friends, I have begun counseling. I regard this as a necessary step toward understanding why I did what I did and making sure it never happens again. I appreciate the fact that I have been given this opportunity and I remain committed to transforming my negative actions into positive results, personally and professionally."
Read: Isaiah not getting fired.