Hearings are currently being held in Pierre, South Dakota over allegations by former legislative page Austin Wiese that Democratic state senator Dan Sutton groped him inappropriately last February when the two shared a Holiday Express motel room at the beginning of the page's weeklong assignment in the legislature: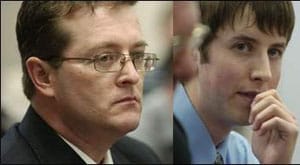 "Wiese, who was staying with Sutton because Sutton was a close personal and family friend, told the committee that the two shared a king-sized bed. Sutton touched him repeatedly on the back and hips on the first night, Wiese testified. He said Sutton moved his hand over Wiese's shorts on the second night, resting it over his genitals for 30 seconds to a minute."
Nineteen-year-old Wiese, whose main evidence in the case is a secretly taped conversation by Agent Brian Zeeb of the South Dakota Division of Criminal Investigation in which there is no clear admission of wrongdoing by Sutton, says that he did not know in advance of his motel room stay with Sutton that there would only be one king-sized bed.
In the inconclusive tape, Sutton tells Wiese he does not recall the incident. Said Sutton: "Well I, I walk in my sleep. I, I move around. I mean Austin, I will do whatever I can. I am, I am sorry and if I. … Heck, obviously I, obviously I, if you remember, obviously I did it."
Wiese told lawyers on the witness stand that he agreed Sutton never admitted to wrongdoing: "I'll agree with you he never makes a 100 percent (admission). Just these references."
Hearing are scheduled to continue today.