As we mentioned briefly on Tuesday, years worth of rumors about an Apple mobile device came to pass this week when Steve Jobs announced the iPhone, a smartphone, iPod, and "internet communicator." Promising that it is "five years ahead of any smartphone on the market today," Jobs showed off the iPhone's innovative features and super-slick design and user interface. The slim widescreen gadget has very few physical buttons, trading the QWERTY keyboard in for a touch-screen display that changes depending on the application. It runs OSX, handles a number of applications including the full Safari web browser and Google Maps, and also works with Yahoo Mail's free IMAP email service, so that, like a BlackBerry, email is pushed to the iPhone as it arrives.
The phone represents a two-year collaboration with Cingular, from whom it will be offered exclusively, for now. It comes in 4GB and 8GB models, priced at $499 and $599 with a 2-year contract. The phone will be available in June of this year, pending FCC approval. This week it was announced that AT&T, which now owns Cingular, will slowly phase out the Cingular name. Said AT&T's Senior VP of Advertising: "What consumer and business customers want is a single provider of
services for the way they live and work today, and if
it's one company, they want it under one name." (photo: x180)
Shortly after the announcement of the iPhone, Cisco announced that they would sue Apple over the name, claiming they have held the rights to the name iPhone since they acquired a VoIP device years ago. Cisco had reportedly been in negotiations with Apple over the name, but no agreement was reached, and Apple went public with the product anyway. Since iPhone has long been circulated as the name for Apple's device, and due to its generic nature, Apple seems to think that the legal battle will be worth it. "There are already several companies using the iPhone name for VoIP
(voice over IP) products," an Apple spokeswoman said. "We're the first company ever
to use iPhone for a cell phone. If Cisco wants to challenge us on it,
we're confident we'll prevail."
The Consumer Electronics Show took place this past week in Las Vegas, allowing many companies to show off this year's hot tech gadgets. Here are a few highlights: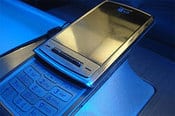 LG was a show-stopper with several attractive offerings. A new high-definition DVD player that handles competing formats Blu-Ray and HD-DVD received attention, as well as new colors of the popular "Chocolate" cell phone. But the elegant LG Shine slider phone, which competes with Motorola's new RIZR in design and drool-worthiness, was the star of the LG booth. The phone will likely be available later in the year, after its debut in Korea and the UK, according to Techdigest.tv.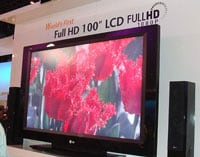 High Definition flatscreen televisions were everywhere at this show this year. Both Yahoo and Gizmodo reported seeing less emphasis on size (although the largest flat screen reached a massive 108" thanks to Sharp's LCD TV), and more emphasis on contrast and picture quality.
And many companies, it seems, have their sights set on television content. TiVo announced a partnership with Comcast, allowing the cable company to offer the user-friendly TiVo, customized for Comcast OnDemand, to its digital cable subscribers, while Verizon announced V Cast Mobile, a service that shows popular television shows on your mobile phone 24 hours a day. Microsoft announced IPTV for the XBOX 360, which will enable a service similar to digital cable. And over at MacWorld, Steve Jobs followed up on last year's announcement of the iTV with its final incarnation, the AppleTV, which syncs downloaded media content wirelessly from any computer (Mac or PC) so that you can play it on a high-definition television.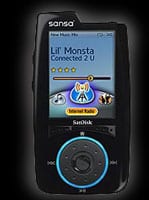 There
was a lot of talk about digital media players, but one that stood out
was SanDisk's new Sansa Connect, the company's answer to Microsoft's
Zune, which was the first to allow wireless transmission of
music files. The Sansa Connect also lets you share music wirelessly and
stream internet radio over WiFi.
Also announced at CES, YouTube is considering creating their own "clips" show of uploaded content, according to Gizmodo. "Sounds like this might be a hybrid of America's Funniest Home Videos and Jackass all rolled into one."
Bloggers have officially been given access to cover the trial of former Cheney aide Lewis "Scooter" Libby, regarding the leak of CIA agent Valerie Plame's identity. The Media Blogger's Association plans to send about 12 bloggers of varying political perspectives to cover the trial. "If we were to ignore bloggers, we would be ignoring reality," U.S. District Court spokesman Sheldon Snook told Reuters.
Two Senators, Byron L. Dorgan (D-ND) and Olympia J. Snowe (R-Me.) are heading up a fresh campaign in the ongoing battle for what has become known as Net Neutrality. "Known as the Internet Freedom Preservation Act, the bill would require network operators (such as Verizon or AT&T) to run their networks in a nondiscriminatory manner, preventing certain types of traffic or traffic from certain sources (such as Yahoo, Google, or Amazon) from being prioritized or deprioritized." Said Dorgan: "If the big interests who control the pipes become gatekeepers who
erect tolls, it will have a significant impact on the Internet as we
know it."
Daniel Williford is our TowleTech correspondent.

You can visit him at his blog, Until Today…