Two parents from the Washington state town of Federal Way (between Seattle and Tacoma), who have unfortunately graced the world with seven of their misled spawn, have blocked the showing of Al Gore's global warming doc An Inconvenient Truth to the district's schoolchildren.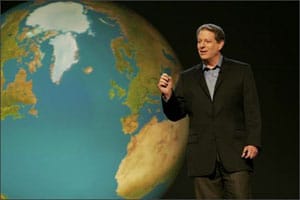 Their reasoning encapsulates much of what is wrong with America today:
Frosty Hardison: "Condoms don't belong in school, and neither does Al Gore. He's not a schoolteacher. The information that's being presented is a very cockeyed view of what the truth is. The Bible says that in the end times everything will burn up, but that perspective isn't in the DVD."
Gayla Hardison: "From what I've seen (of the movie) and what my husband has expressed to me, if (the movie) is going to take the approach of 'bad America, bad America,' I don't think it should be shown at all. If you're going to come in and just say America is creating the rotten ruin of the world, I don't think the video should be shown."
The frightening thing is that these two wingnuts (one of Hardison's other beliefs is that the earth is 14,000 year old) can have the ability to bring an entire educational system's science program to a halt through one email.
Here's the district's "solution": "School Board members adopted a three-point policy that says teachers who want to show the movie must ensure that a 'credible, legitimate opposing view will be presented,' that they must get the OK of the principal and the superintendent, and that any teachers who have shown the film must now present an 'opposing view.'"
Inconvenient Truth co-producer Laurie David responded: "I am shocked that a school district would come to this decision. There is no opposing view to science, which is fact, and the facts are clear that global warming is here, now."