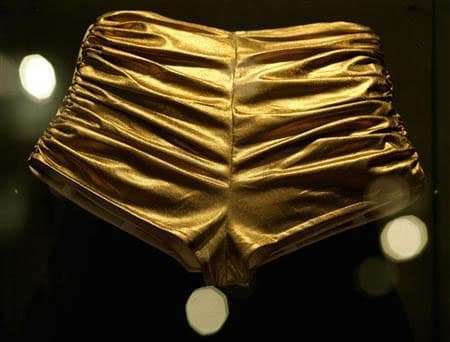 Those of you heading to London in the coming days who aren't interested in seeing Kevin Federline's throat slit at the National Portrait Gallery may want to make your way over to the Victoria and Albert Museum which is featuring an exhibit dedicated to Kylie Minogue.
You will be welcome to stare at Kylie's gold lamé hotpants for as long as you like.
Of course there's also the Tate Modern, which on February 15th will be hosting the largest-ever exhibit dedicated to Gilbert and George.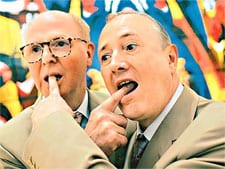 For more on Gilbert and George, there was an enlightening article in The Observer last week (via queerty) that shed some light on their delight at being featured at the Tate after being shunned from its walls for many years: "George's theory is that homophobia is still alive and well, even in the supposedly liberal and bohemian art world. 'There's a lot of closet gay bashing,' he says. 'There are journalists who attack us without saying anything about that [their sexuality], but you can see clearly what it is. The Guardian once said: "They must be very unhappy, after all these years, of being called filthy queers." The Guardian! Extraordinary!' In fact, he thinks the art world and the media are a good deal less tolerant than the man on the street. In their real lives, no one ever abuses them."