Now here's an Evangelical we can be proud of. Freddie Oakley, a California County Clerk who also happens to be a heterosexual Evangelical Christian mother, finds it painful to deny marriage certificates to same-sex couples, and has announced that on this Valentine's Day she's going to present them with "Certificates of Inequality" as a personal protest against California's ban on gay marriage.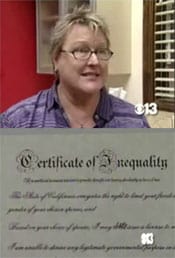 Oakley is an elected official in charge of issuing marriage certificates in Yolo County which includes the cities of Woodland, Davis, Winters, and West Sacramento.
Said Oakley of denying same-sex couples the right to marry: "It is a very unpleasant task and it gets harder every time I have to do it…What it essentially says it the law says you can't get married. But I, Freddie Oakley, say 'that's too bad'."
Of her evangelical Christian background, she says: "I don't think that religion belongs at the office. I think it's wrong. I don't go down and tell my pastor how to preach and I don't want him to stand behind my counter….I think [taking a stand] absolutely is [the place of a puclic official]. In fact, I think it's our duty. We don't just enforce laws, we're policy makers. If I'm comfortable in my morale [sic] heart that I'm doing the right thing, then let the chips fall where they may."
Kudos to Oakley for going out of her way to make a difference and realizing that personal expressions of faith are just that – personal.