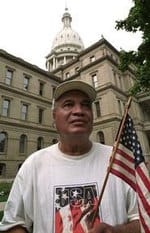 Funeral arrangements have been set for Andrew Anthos, the 72-year-old gay senior citizen who was beaten to death in a homophobic hate crime last week in Detroit.
A public viewing and visitation will be held from 2-9pm tomorrow – Tuesday, February 27 and a service will be held at 1pm on Wednesday at the Ford Funeral Home, 26560 Van Dyke, Center Line, Michigan 48015; (586) 754-2464.
The other tragedy? A senior citizen who campaigned for 20 years is beaten to death with a pipe in an anti-gay attack and not one item from CNN, or the other major outlets. Pathetic.
ADDENDUM: A tipster writes in, "The family has requested that donations be made in the family's name to go toward Mr. Anthos' dome fund and to assist them in their campaign to fight hate crimes. Funds in the Anthos family name can be mailed directly to the funeral home, however, I have no idea what or how funds will be used specifically or what anti-hate crime campaign the family plans to commence."
Background
Gay Senior Citizen Brutally Beaten in Detroit Hate Attack Dies [tr]
Gay Senior Victim of Detroit Hate Attack Given Last Rites [tr]
Gay Senior Citizen Patriot Clings to Life After Attack [tr]
72-Year-Old Detroit Man Paralyzed After Brutal Anti-Gay Attack [tr]