John McDonald and Rob Wright, a gay couple known in Los Angeles for their generous gifts to the city's Gay & Lesbian Center, have donated more than $1 million to the UCLA law school to establish the nation's "first endowed academic chair in sexual orientation law" according to the L.A. Times: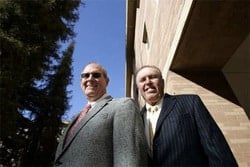 "The cash gift…will help fund the research of a still-to-be-named professor at UCLA Law School's Williams Institute on Sexual Orientation Law and Public Policy. That 5-year-old think tank investigates such topics as anti-homosexual discrimination, the impact of the military's 'don't ask, don't tell' policies and the demographics of same-sex couples who have adopted children."
Said McDonald: "This is going to support legal scholarship, legal research and education that covers a whole area so fundamental to creating change. We just think this is one of the best things we've ever done."
McDonald, a graduate of UCLA, and Wright have been together for 25 years, are registered domestic partners in the state, and say they plan to marry "instantly" should it become legal in California.