19-year-old gay teen Michale Bullis filed a lawsuit in January in U.S. District Court, claiming that Grove school officials violated his civil rights "when they failed to provide him with a safe school environment and created a hostile climate that led to assaults and name-calling" according to the Joplin Globe: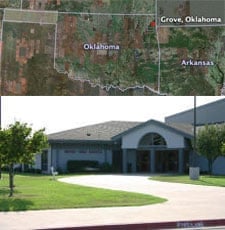 "According to the federal complaint, Bullis claimed he was the target of 'severe and pervasive verbal and physical harassment.' In the complaint, Bullis also alleged that while attending Grove High School, he was routinely subjected to 'name-calling and threats of physical harm and death' from 2002 to November 2005…Bullis was also subjected to repeated sexual assaults, which consisted of inappropriate and unwanted backrubs accompanied by verbal mockery and insults, inappropriate stroking of his neck and throat, also accompanied by blowing in his ear and touching, and rubbing and grabbing his genitals, the complaint stated."
Bullis cites two attacks in which he was punched and teeth were broken, and one in which he was knocked briefly unconscious. He transferred to the Grove Alternative School, he says, because the school failed to adequately protect him.
Bullis seeks $75,000 in damages and a diploma with honors. School officials, who were served the papers last week, had no comment.
Gay Grove student suing school district [joplin globe]