The Michigan Court of Appeals ruled today that stipulations on an amendment banning gay marriage, approved by Michigan voters in 2004, also apply to domestic partner benefits.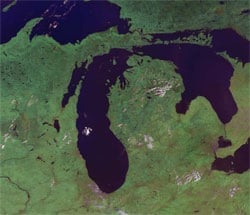 Because the language of the amendment states that a same-sex marriage "or similar union for any purpose" cannot be recognized, the Court ruled unanimously that state and local governments, as well as public universities, violate the Constitution if they provide health benefits to the partners of gay employees.
Said the Court: "We feel constrained to observe at the outset that this case is not about the lifestyle or personal living decisions of individual citizens. Rather, it is about whether the marriage amendment may permissibly impose certain limitations on the state and its governmental subdivisions."
This is a reversal of a 2005 ruling saying that partners could receive the benefits.
Said Jeff Montgomery of the gay advocacy group Triangle Foundation: "This ruling will result in families being robbed of their health care and other basic necessities that are fundamental to protecting their well-being."
An appeal before the Michigan Supreme Court is likely.