The Janice Dickinson Modeling Agency waited an additional week to air the episode featuring the coming out of Survivor: Cook Islands castaway J.P. Calderon. I missed the episode, but Reality Blurred fills us in on the details.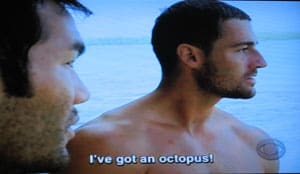 J.P. voiced his hesitation about opening the closet door: "A real big reason why it's so hard to come out is you're scared of losing the people that are so closed to you, your best friends, your close friends, and most importantly, your family. And I don't want to be considered a disappointment…I hate hating myself. And I truly hate myself, I truly don't like who I am. Maybe this is my way of letting go and finding out who's gonna to accept and me and finding out who's not. … I'm in a daze right now. I'm happy, I'm excited, I'm scared, I'm apprehensive, and I'm not really sure what the hell I'm doing right now. I'm just tired of living this facade of something that I'm not, and I just want to start living as something that I am. I better go home and start telling people."
But Dickinson was there to support him both emotionally and in the pool. The self-proclaimed "world's first supermodel" reportedly held his legs during the Instinct cover shoot to help him stay afloat. She told Calderon:
"I just wanted to tell you how fucking proud I am of you. Coming out yesterday must be really hard, and then being on the cover of a national magazine the next day? … It's really, really good…Live for yourself, not through other people's eyes and the way you think you should be in their eyes, otherwise you would be a very unhappy old person. Trust me."
The interview with Calderon is now online.
J.P. Calderon: "I truly hate myself" but "I just want to start living as something that I am" [reality blurred]
You may have missed…
Former Survivor Castmate J.P. Calderon: I'm Gay [tr]