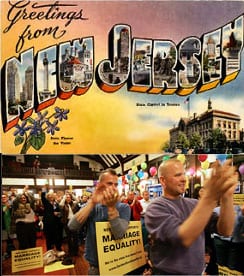 At midnight, New Jersey became the third state in the nation to offer civil unions to same-sex couples. For New Jersey same-sex couples who were married in other states or nations where it is legal, the unions were granted automatically.
Newsday reports: "At least one couple held a ceremony at the first possible moment. Steven Goldstein and Daniel Gross reaffirmed their Vermont civil union. They would have had the rights in New Jersey even without holding a midnight ceremony here…Goldstein, the chairman of the gay rights group Garden State Equality, and Gross, a vice president at Goldman Sachs, held their ceremony behind a desk in a cramped office instead of a more idyllic or religious spot."
Gay marriage advocates say they'll continue to push for that classification in New Jersey, and opponents say they'll continue to push for a ban in the constitution.
You may have missed…
New Jersey Governor Corzine Signs Civil Union Bill [tr]