In an attempt to help Tim Hardaway understand gay people, North Miami Mayor Kevin Burns has extended an invitation to the former NBA player. Burns has asked Hardaway to spend a day with him at his office and home, where he lives with his partner of 23 years, Rob Flint, and their daughter Autumn.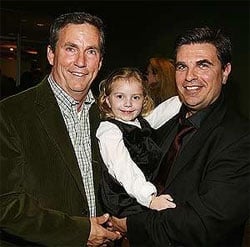 Said Burns: "We're just trying to show him that there are living, breathing people that just happen to be gay. 'I don't expect [Hardaway] to be waving a peace flag anytime soon, even after this. But maybe he'll be less likely to say something bad about people if he knows them and understands a little more." Burns says Hardaway has accepted the offer, but no official announcement has been made, and Hardaway's spokesperson told the Miami Herald that an announcement would be premature.
Hardaway apologized again on Sunday for his comments, telling CBS affiliate WFOR, "I don't hate gay people. I'm a good-hearted person. I interact with people all the time. … I respect people. For me to say 'hate' was a bad word, and I didn't mean to use it."
Despite the contrition, comments Hardaway made last week, that he "hates gay people" and would feel uncomfortable playing on a team with another gay player, are still reverberating through the sport.
During All-Star weekend media sessions in Las Vegas over the weekend, players, including some from Hardaway's former team, the Miami Heat, were asked about the incident.
Heat center Shaquille O'Neal (pictured joking around during All-Star practice with LeBron James) said he would stand up for a gay player: "I was always taught as a youngster to never judge people, so I never judge people and to each their own. If he was my teammate and people ridiculed him and jumped on him, I would probably have to protect him."
Heat guard Dwyane Wade did not refer to Hardaway specifically, but offered this: "Anybody who knows me knows I'm a guy who loves his teammates and if anything ever comes up like that, I don't look at that. I look at what guys can do for you on the court. And in the locker room you have great relationships with guys. I don't have any negative views."
Heat forward Jason Kapono (seen here after winning the trophy for the three-point competition Saturday night) said Hardaway's views put him in the minority: "Everyone has their own views on life, and that's something that's obviously his point of view, but that's definitely not the point of view of all the rest of us."
NBA star Bill Laimbeer avoided the question entirely: "Who is Tim Hardaway? Next question."
Memphis forward Mike Miller offered support for former teammate Amaechi: "He's a great person. Everyone has the right to be how they want be. It would be difficult [having an out player on the team], but at the same time our league is a league that has taken on anything. We bring on and accept anything, and I think that's what's special about the NBA."
Scottie Pippen: It was pretty shocking. You hate to see that happen to one of your colleagues knowing the damage he's caused to himself, his family and friends … I'm very disappointed it happened."
Phoenix Suns guard Steve Nash said: "I think, probably, there's a player or two out there who believes what he believes. That probably would be fair of every cross section of society. But in general, I think he spoke for himself. I don't think you'd catch many guys feeling that way…Maybe 10 years ago. But in our locker room [now]? I think guys are over it. Guys are like, 'I don't care what you do.' I don't know about other locker rooms. I don't know if it's peer pressure is contagious or just being in the right place in the right time to get that type of virulence. But in the Phoenix Suns' locker room, it's not like that."
Sacramento Kings co-owner Gavin Maloof said a bigoted player would not have a place on his team: "What he said was uncalled for. What he said was wrong. I'm sure he apologized for it, but the damage has been done. He should have never said that. Because we don't want to be judged by race, creed, color, sexual preference. I mean, people are people. And that's the way it should be."
In addition to having his name dropped from the car wash he co-owns in south Florida, Hardaway was taunted and flaunted on several websites over the weekend, which published YouTube footage of a naked Hardaway in the locker room. Said sports blog Deadspin: "Tim Hardaway might not enjoy gay people, but I really think it could give us all a chance to heal if gay people had a chance to enjoy Tim Hardaway."
Here are a few recent notable articles on Amaechi:
The Loneliness of the Gay Basketball Player: John Amaechi's Man in the Middle, the memoir of an NBA misfit. [slate]
Amaechi's Good Morning America appearance [newsbusters]
Gay Mayor Reaches Out to Hardaway [miami herald]
Shaq: I'd protect a gay teammate [palm beach post]
Anti-gay comments find no backing [tr]
You may have missed…
Former NBA Player Tim Hardaway: "I Hate Gay People" [tr]
Former NBA Player John Amaechi on Outside the Lines: I'm Gay [tr]
Amaechi: Hardaway Anti-Gay Comments "Illustrate the Problem" [tr]
Tim Hardaway's Gay Hate Speech Brings Swift Reaction [tr]