Valentine's Day same-sex marriage rally planned at Rhode Island statehouse.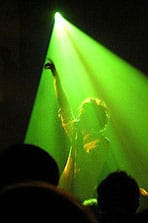 UK pop star Mika reigning over the Brit charts: "The 23 year-old phenom went straight to No 1 on the UK album charts this week with his 11-song disk, moving 107,732 copies of the eclectic new album, and adding to an unparalleled string of No 1s for a debut artist: No 1 single 'Grace Kelly,' which has held the top spot now for 4 weeks running. The infectious single is also the No 1 itunes song in the UK, No 1 on the national and regional airplay charts, No 1 video download, as well as holding down the No 1 video slot in the country. The charismatic newcomer also owns the No 1 album on itunes, an incredible launch for an artist who was turned down by virtually every record company with his visionary brand of groundbreaking, kiss-goodbye-the-cookie cutter songmaking."

New Life church has paid Ted Haggard cash to keep his heterosexual trap shut: "Haggard signed a non-disclosure agreement with his former congregation, New Life Church, and received an unknown sum of what could only be described as hush money. The agreement included a clause that forbids either Haggard or New Life from stating how much his silence was worth."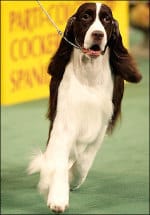 Diamond Jim, an English Springer Spaniel, took 'Best in Show' at the Westminster Kennel Club competition last night: "Diamond Jim beat out the Dandie Dinmont, a pair of white poodles and a petit basset griffon vendeen, plus an Akita and a Bouviers des Flandres that pitted a husband and wife against each other."

Dolphin receives world's first artificial fluke.

Carjackers steal openly gay Filipino comic Anton Diva's car in Manila with friend inside: "Cariño had just gotten off the vehicle when two men seized the car keys and forced him back in the car. He said at least four men boarded the vehicle and forced him at gunpoint to lie face down in the back of the car where he was punched, kicked and blindfolded. Cariño said he did not cry for help for fear of being shot even after sensing that the car had reached a toll gate. He said the carjackers took his cell phone and wallet before abandoning him in Marilao, Bulacan."

December shooting at black "gay house" party in Chicago draws attention to need for community tolerance of gays and lesbians. Activist: "Thank God nobody died. But out of that tragic incident, we're able to find our voice and our strength. After we called everyone together, we did something that's never been done before in this town. We just said to everybody, `We need to bring this community together with people who are responsible and call them to be accountable.'"

Ontario, Canada cabinet minister George Smitherman, who recently announced he'll wed his partner Christopher Peloso, jokes about what he'll wear to the wedding: "Probably a thong." He then said "linen" would be a good bet.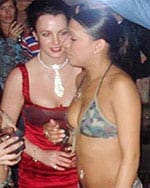 Britney Spears takes one more trip down the road to ruin.

DNC Treasurer Andy Tobias responds to criticism of Howard Dean and the DNC's efforts for the gay community at the recent LGBT Caucus.

Death row inmate Richard Laird, who was offered a retrial, is again sentenced to death for killing gay artist 20 years ago: "Laird and Frank Chester, now 39, of Tullytown, were both sentenced to death in 1988. Chester is also appealing. Prosecutors said the two abducted Milano, of Bristol Township, from a Route 13 bar on Dec. 15, 1987, and forced him to drive to nearby woods. Milano's body was found near his burning car. A medical examiner testified that he was slashed 'too many times to count.'"