Polish President Lech Kaczynski was roundly condemned on Wednesday for remarks he made during a recent state visit to Ireland. After being questioned about his decision to ban a gay pride parade in Warsaw and challenged regarding his homophobia, Kaczynski said: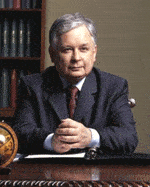 "If that kind of approach to sexual life were to be promoted on a grand scale, the human race would disappear. Imagine what grand changes would occur in mores if the traditional links between men and women were set aside."
An interesting statement from a man whose twin brother, Poland's Prime Minister, was recently outed after documents from the Polish Secret Service were declassified.
Still, the brothers continue to insist they are not homophobic though the actions of the government reveal a cruel oppression.
Kaczynski's comments were quickly criticized by Irish politicians and gay rights groups. Said Senator David Norris, who helped to secure the decriminalisation of homosexuality in Ireland in 1993: "The distempered, ignorant, unsophisticated attitudes on behalf of the leader of Poland are a disgrace…to the European community."