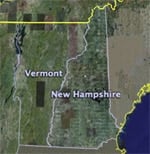 By a vote of 233-124, the New Hampshire House yesterday voted down a bill that would have defined marriage in that state as between a man and a woman:
"Chester Democrat Charlotte Lister said she was puzzled why same-sex marriage opponents "went to all the trouble" of trying to amend the state constitution. Lister counts herself among the people who do not see why granting legal status to same-sex unions will harm anyone else.
'We're all very sure the real issue here is homosexuals,' Lister said. She was one of few Rockingham County lawmakers who voted to defeat the ban on gay marriage."
Another bill, which has passed a House committee and would legalize civil unions in the state, is expected to come before the House next week.