Italian bishops cause furor by ordering Catholic legislators to vote against gay rights legislation: "The long-awaited note, issued on Wednesday by the Italian Bishops Conference, was significant because it specifically targeted politicians as they consider a law to give homosexual and heterosexual unmarried couples more rights. While not specifying any punishment by the Church, it says Catholics could not hide behind "the principle of pluralism" or compromise on what it called the ethical needs of society. The note said Catholic politicians had 'the moral duty to clearly and publicly voice their disagreement and vote against any proposed law that would recognize homosexual couples'."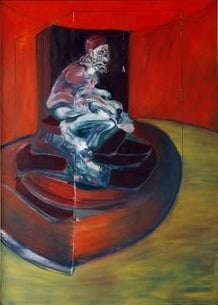 Francis Bacon painting "Study from Innocent X" could set auction record for a postwar artist.

The Cliks cover Justin Timberlake's "Cry Me a River". "The group is the brainchild of singer Lucas Silveira, a transgendered male, who started to write songs in 2005. After multiple personal crises, Silveira climbed back up and started to come to terms with his individuality. 'They say when it rains, it pours, and that essentially happened to me before the creation of this album.'"

Birmingham, Alabama City Council rejects resolution that would have made it part of the Partnership for Inclusive Communities, an initiative of the National League of Cities, because the resolution includes rejecting discrimination based on sexual orientation: "The resolution itself is a sanguine, feel-good political statement, supporting inclusiveness and condemning all kinds of bigotry and intolerance. The NLC's website lists the numerous other cities that have already passed the resolution, including Atlanta, Nashville, Charlotte and Raleigh. In addition, several cities in Alabama have already passed the resolution — Selma, Aliceville, Valley and Talladega."

Ever wanted to swim next to a blue whale? Here's your chance, sort of…


Darren Hayes gets back behind the microphone in New York City.

Marc Jacobs to open 730-sq-ft store in Provincetown: "[President Robert] Duffy is especially fond of the Provincetown Art Association and Museum, and Jacobs stores nationwide are selling T-shirts to benefit it. The 730-square-foot Provincetown store will sell women's and men's collections and items tailored to the location. Those will include 10 specially designed T-shirts, flip-flops, sunglasses, bathing suits, tote bags, umbrellas, and even surfboards and motorcycle helmets for those who ride around the town on Vespa scooters. Children's products also may be added. 'Everybody thinks it's all gay men in Provincetown, but there's a lot of families, there's a lot of young single people, and there's a lot of young families with children,' Duffy said. 'The town can handle it. I just know we have a customer there.'"

Just days after a decision by New York's Jewish Theological Seminary to admit gays and lesbians, Jerusalem's Schechter Rabbinical Seminary says they won't.