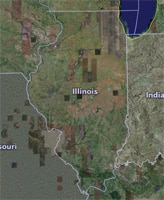 The Human Services Committee of the Illinois House approved a civil union bill (HB1826) 5-4 on Wednesday. The bill will now move on to the House floor, where the bill's sponsor, Rep. Greg Harris, (D-Chicago), hopes to call it up for a vote in the coming months.
Said Harris, who is gay: "Illinois is ready now for civil unions. The outpouring of public support shows it's ready for civil unions, and I hope one day it will come around to the concept of same-sex marriage."
Harris had introduced a gay marriage bill in February, saying "We wanted to reaffirm in this bill that there is no religion, no church, no temple, no mosque that we are trying to compel to consecrate marriages." At the time, he said that civil unions had been considered but had been thrown out because of its separate-but-equal status.
Now, according to the Chicago Tribune, "after discussions with House colleagues, Harris abandoned his efforts to legalize gay marriage, saying the idea faced too much resistance. Illinois just last year banned discrimination based on sexual orientation after a decade of debate."
Illinois bill would allow civil unions of gay couples [chicago tribune]