Sir Elton John turns 60 on Sunday, and he recently wrote an editorial the British magazine New Statesman, calling on people to speak out against homophobia: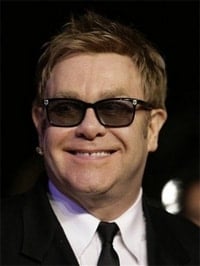 "In December 2005, I was legally bound to the man I love. It's my legal right and my human right. And I wanted everyone to know, I wanted to shout about it. In some countries, my voice would have been drowned out. Maybe even stamped out. Men and women are persecuted and attacked every day all over the world, just because of who they love and who they make love to…My voice has served me pretty well over the years. I hope maybe it can do him some good too. But we need more voices. Whether the bigot is in our local pub or a thousand miles away, we should all stand up and speak out for these basic human rights."
He also praised those who speak out for gay rights, specifically noting El Salvador gay rights activist William Hernandez and his organization Entre Amigos.
Yesterday it was announced that Elton John's entire catalog (30+ albums) will be available digitally for the first time on iTunes. He will celebrate his birthday on Sunday with a party and performance at Madison Square Garden. The performance will also be his 60th. MSG will raise a banner ("Most Performances by a Single Artist") in tribute.
You may have missed…
Chaos in Windsor as Two Queens Marry [tr]