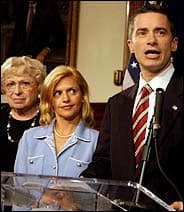 According to the Star-Ledger, former New Jersey governor James McGreevey revised his divorce lawsuit against Dina Matos-McGreevey in late February, demanding sole custody of their five-year-old daughter Jacqueline, as well as child support.
When McGreevey filed for divorce in early February, he told the AP that he and his estranged wife had come to a "matrimonial settlement agreement" which settled both custody and support issues: "It's a sad day for everyone. It is something that had to be done. We are blessed with a wonderful daughter who remains our focus."
Matos-McGreevey then countered with a much less conciliatory statement, saying "We continue to have profound differences about what our daughter should be exposed to, and until they are resolved, there will be no agreement."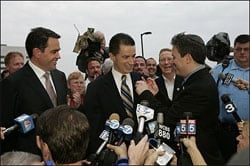 Blog The Pot and the Kettle suggests that the new moves by McGreevey may be because the former governor plans to enter into a civil union with his partner Mark O'Donnell.
They spoke with John Eory, a divorce lawyer: "'If he's claiming he's better fit to be entrusted with the residential care of his child, I'm presuming he's prepared to go to the mat to do that,' Eory said. He said McGreevey might argue that he can provide a 'stable nuclear two-parent household … (and) offer benefits to the child that she can't get in a single-parent home.'"
You may have missed…
Former NJ Governor James McGreevey Files for Divorce [tr]
Former New Jersey Governor James McGreevey is Hung [tr]