Lesbian couple denied communion in Wyoming because they publicly opposed a bill that would have barred the state from recognizing out-of-state same-sex marriages: "Leah Vader and Lynne Huskinson have attended Saint Matthew's Catholic Church since 1998, and were married two years ago in Canada. Earlier this year, when the Legislature considered a bill that would have barred Wyoming from recognizing such marriages, the two said the bill amounted to discrimination. Last week, they got a letter from the Reverend Cliff Jacobson of Saint Matthew's, telling them they can no longer receive communion, in part because of their public position."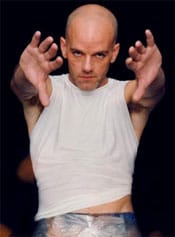 Michael Stipe was inducted into the Rock & Roll Hall of Fame last night. EW celebrates Stipe's many looks over the years.

Andrew Sullivan demands answers from Human Rights Campaign over budget, membership numbers, and political affiliations of its board members.

Episcopal minister in gay marriage protest. Rev. Robert Hirschfeld, rector of Grace Episcopal Church in Amherst, Massachusetts, says he'll stop performing all marriage ceremonies to protest the denomination's stance against same-sex unions. Said Nina Scott, a congregant: "I'm so proud to be a part of this. It's a step that needs to be taken."

Leonardo DiCaprio's arrival in Israel inspires near riots.

Whitney Houston begins work on comeback album.

Amid criticism from "pro-family" and religious groups, the largest school district in Indiana is ready to adopt broad rights and protections for its gay and lesbian employees. Superintendent Eu gene White: "They're not living in reality. If we do know people are gay, we want to make sure we extend to them the same freedoms and liberties we give to everyone else. We wanted to be more inclusive."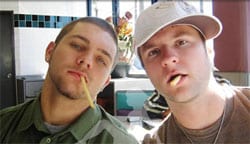 Would you like fries with that Idol? QueerClick fawns over Chris Richardson and Blake Lewis. (Caution Site NSFW)

Ricky Schroder joins cast of 24.

Bill to ban gay adoption and foster parenting advances in Arkansas: "Testifying before the committee Monday, former foster child Barbara Miles of Little Rock said the bill puts political considerations ahead of the needs of children and further reduces the chances for a home, paternal love and stability for those children. 'I had 10 different foster parents (none of whom were gay) in three different states before I was adopted at age 10,' Miles said in an interview after the meeting. 'What got me through that was that I was able to find and establish relationships with a few people who showed me unconditional love and care. To deny a child a family because politics eliminates an entire category of people is inappropriate.'"