Two Chicago students file lawsuit so they can wear anti-gay T-shirt that says "Be Happy, Not Gay": "According to the suit, one school administrator ordered Zamecnik to remove the T-shirt and another official ordered her to cross out 'NOT GAY' with a marker. The suit alleges Zamecnik suffered unlawful discrimination and humiliation because school officials didn't agree with her viewpoint. Nuxoll did not attend the school at the time of the incident." It's Tyler Chase Harper all over again.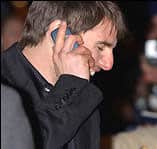 REPORT: Beckhams sick of Tom Cruise trying to convert them to Scientology. "Victoria is tired of Tom being on her back about Scientology. Victoria is an old-fashioned British woman who believes in God. She finds it quite annoying that Tom is bugging her so much. Not too long ago, Tom left 18 messages in one hour to get them to join the church. But when Victoria says no, she means no."

The Ted Haggard massage table, crucified by fundamentalists who had it pulled from eBay, has a second coming.

Sanitation worker disciplined for attempting to get glamour shots of Naomi Campbell's floor-scrubbing fashion show.

Ryan Seacrest is neither gay nor bisexual, according to an old flame.

We've already seen him lock lips with his lead singer Lukas Rossi, but now we learn that Tommy Lee is also an equal opportunity toe sucker.

You know you are a weather geek when…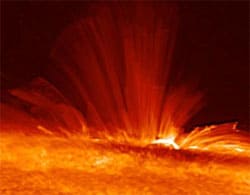 Hot: Space probe reveals "impossible" images from our sun. "Hinode has sent back startling images of the Sun's outer limb. Where astronomers expected to see a calm region called the chromosphere, they saw a seething mass of swaying spikes…Another surprise sighting is that of giant magnetic field loops crashing down onto the Sun's surface as if they were collapsing from exhaustion, a finding that Golub describes as 'impossible'. Previously, scientists thought they should emerge from the Sun and continue blowing out into space. 'Almost every day, we look at the data and we say – what the heck was that?' says Golub, a member of the XRT science team."

The National Lesbian & Gay Journalists Association (NLGJA) has posted a gallery of shots from their recent New York benefit at ABC studios in Times Square.

Chile's first gay football team prepares to head to IGLF World Cup in Buenos Aires. Player: "There are a lot of spaces for the development of sports for heterosexuals, but we gays don't have that. This is our space, and when we play, there's nobody shouting abuse at us from the sidelines."

Here's the full article at The Stranger about anti-gay pastor Ken Hutcherson's alleged trip to Latvia at the behest of the White House.