It's been talked about for weeks, but last night Indianapolis Colts Coach Tony Dungy stood before a staunchly anti-gay crowd at the Indiana Family Institute Banquet benefit and declared himself to "embrace" them in the gay marriage debate.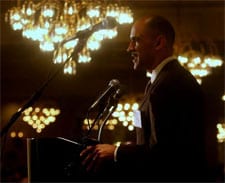 Said Dungy: "I appreciate the stance they're taking, and I embrace that stance…IFI is saying what the Lord says. You can take that and make your decision on which way you want to be. I'm on the Lord's side….We're not anti- anything else. We're not trying to downgrade anyone else. But we're trying to promote the family — family values the Lord's way."
Earlier this month the Colts released a statement distancing themselves from the event: "Coach Dungy's feelings on the importance of marriage and family are well known. He, of course, is free to speak to any group he wishes. The club does not take positions in political issues in which it is not directly involved. The Colts do not endorse any political or religious position taken by any group that any Colts employee decides to speak or lend his or her name to."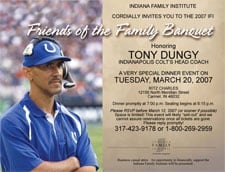 They did, however, provide signed sports equipment to be auctioned off to raise money for the anti-gay organization: "Previous IFI banquets had drawn at most 440 guests, according to organizers. But the appearance of the Super Bowl-winning coach to receive the institute's "Friend of the Family" award set a record. Seats for the event at the Ritz Charles, one of the institute's largest annual fundraisers, went for $75 apiece. In addition to the more than $50,000 raised from ticket sales, the institute auctioned off enough Dungy-signed Colts footballs, helmets and paraphernalia to raise nearly another $20,000. In keeping with the Colts theme, Dungy was introduced by Colts punter Hunter Smith, whose Christian band Connersvine served as the evening's entertainment."
Imho, raising $20,000 for a hate group means the Colts (and therefore the NFL) is endorsing them.
Dungy: 'I embrace' same-sex marriage ban [indianapolis star]