Denver police officer Richard Boehnlein is under investigation for refusing to take action against a gay basher. Nima Daivari, a law student visiting the city from New York, claims the officer refused to do anything after Daivari was assaulted.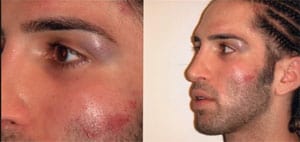 We were sent a statement from Daivari on Monday (warning, contains strong language):
So, Saturday night my cousin Janet, her boyfriend Evan, and myself were walking home from dinner in downtown Denver. We passed by a couple and the male said "Keep that faggot away from me". I said "Excuse me?" with an incredulous tone and he stepped up to me and said "Fuck you faggot, I will fuck you up" and punched me in the face.

I retaliated and punched him twice in the face and put him in a headlock to keep him from hitting me again. His girlfriend then proceeded to punch me several times in the face. I couldn't let go of him, so I took several blows to the jaw, head and face as my cousin and her boyfriend tried to restrain her. Officer R. Boehnlein (and his partner) of the Denver police department arrived and physically restrained me and my two assailants. I told him I wanted to press charges, he said "No, go home".

Three times I insisted that I wanted Officer Boehnlein and his partner to arrest my attackers and to every request he said "No, go home". I told him I was a second year law student and that I know I had the right to defend myself after I was attacked. I told him that I have the right to press charges. I told him this was a hate crime. He didn't care. So we went home and cleaned me up. We then went straight to the 6th precinct of the Denver police and attempted to file a report against Officer Boehnlein. They wouldn't let me. They said I had to wait until a sergeant arrived. My cousin Janet managed to convince them to at least allow us to leave statements. We did and were told a sergeant would call us.
Sergeant Marion Penn called me at 4:00am and after I related the attack to him he said he would call me back the next day, after speaking to Boehnlein and his partner. Sunday afternoon Sergeant Penn called me back and Janet and I went into the precinct. There, Penn and another off-duty sergeant began apologizing to me for Officer Boehnlein's behavior. They then brought Boehnlein in to apologize to me and made him fill out the police report that I had requested him to fill out 20 hours earlier.

For every question he asked me, I said "Well, you were there, what time do you think it was", "Well, you were there, how tall do you think he was", "Well, you were there, how bad were my injuries". Officer Boehnlein was unfazed by this. I know in his mind not only am I the faggot who got beat up, now I'm the faggot who's getting his ass in trouble.

Sergeant Penn assured me that Officer Boehnlein is going to be reprimanded and investigated and they assigned Detective Vasquez my case. He is going to go and see if there are any surveillance cameras in the area or to see if he can locate any witnesses.

While all this makes me feel a little better (as does the fact that I fucked up that homophobe and for the rest of his life he's going to know that [I] fucked up his face), the bottom line is that 1) I was randomly attacked solely because I am gay. I chose to wear white pants and a fairy necklace and thus was subjected to a physical attack and 2) Officer Boehnlein did not give a flying fuck. The asshole, who very well could have pummeled me into a pulp, (if I were someone who was unable to defend myself) was in physical police custody, a gay guy said he wanted to press charges, and instead of allowing me to press charges against him, the officers chose to release him and we all know he will never be found and never be punished.

This is precisely the reason I go ballistic on gay rights and equality. If I were a straight white man, do you, dear reader, think that I would have been attacked? Would I have been denied the right to press charges? This entire debacle is complete and utter bullshit.
From the Rocky Mountain News: "The entire incident is being investigated by the police department's internal affairs division, said Detective Virginia Quinones. According to police documents, the suspect and Daivari exchanged words before he punched Daivari in the face. Daivari, an amateur boxer, responded by punching the man twice and putting him in a headlock to restrain him. The man's girlfriend punched Daivari several times in the face before police arrived, he said. The suspect is described as a white man between 20 and 30 years old, about 6 foot, 2 inches tall and 200 pounds. He was wearing a green shirt and blue jeans."
More on this as it develops…
Gay man says police ignored hate crime on 16th Street Mall [rocky mountain news]