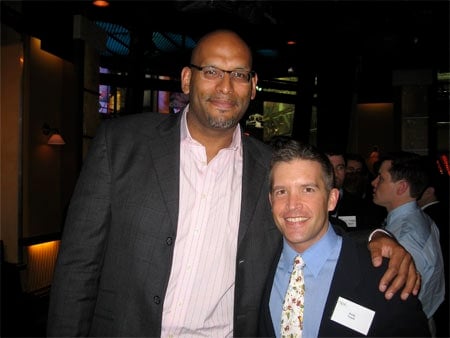 Last night I had the pleasure of attending a benefit for the National Lesbian & Gay Journalists Association (NLGJA) at ABC Studios in Times Square. There were some amazing folks there, along with some notable attendees not on the roster, many of whom I have mentioned in these pages and was anxious to meet. First was former NBA player John Amaechi, who was as articulate, thoughtful, handsome, and as tall as expected. A class act. Although I don't often post photos of myself on this blog, I thought this one was particularly hilarious, given our height differentiation. Amaechi is certainly someone I'll always look up to in more ways than one.
I also wanted to give a shout-out to some folks who read the blog whom I had the chance to meet and chat with last night: Eric Hegedus, Doug Stewart, Wonbo Woo, Jason Bellini, Kenneth Walsh, Will Wikle, Tom Dolby, Clint Henderson, Shimrit Sheetrit, Jud Newborn, Mark Miller, David Thorpe, Daryl Presgraves, Steve Villano, Itay Hod, Joe Tarver, Marc Honaker, Bob Smith, Bruce Shenitz, Ryan Smith, Corey Johnson, Stuart Elliott, Todd Emmett, and John Eckel. An unannounced guest to the event whom I was also excited to meet was the well-spoken and dashing Thomas Roberts. And yes folks, he is as good-looking in person. I apologize if I missed anyone. Thank you all for reading – I appreciate the support!
There certainly was a powerful gay force in media represented last night. I was proud to be part of it.