Over 1,000 people jammed the Indiana statehouse today to support an amendment that would ban gay marriage, according to the South Bend Tribune: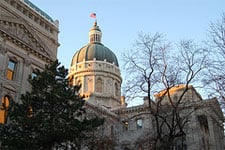 "The conservative group Advance America organized the rally, which drew a crowd so large that many watched speeches from the upper levels of the Statehouse. Advance America founder Eric Miller urged lawmakers to repeal property taxes and support a constitutional amendment banning gay marriage.

'It's not a Republican or Democrat issue,' he said. 'It's right versus wrong.'"
It's possible the amendment could appear on the 2008 ballot should this legislature pass it, as it requires two separately-elected General Assemblies to pass the measure, and it was passed already in 2005.
You may have missed…
NFL and Indianapolis Colts Coach Dungy Raise Money for Anti-Gay Hate Group [tr]