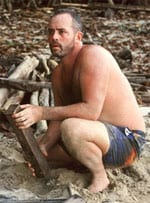 Gay Survivor winner Richard Hatch, doing time for tax evasion at a minimum-security prison in Morgantown, West Virginia, talked to People magazine about his current digs:
"Obviously, this is better than the county lockup. There's no fence here. But people think I've come to a country club. It's not. This is prison. Just because it's got a beautiful view of the countryside doesn't make it a resort. And it's horrendous because I'm an innocent man in jail…During Survivor, I caught them cheating – that's where this story really begins. I demanded that something be done. [I'm] working on a book that I should have no trouble getting published. You don?t understand how much you miss your home life until it's taken away from you."
Hatch is 14 months into a 51-month sentence.