As promised earlier this week, Eliot Spitzer today will deliver a gay marriage bill to the New York legislature.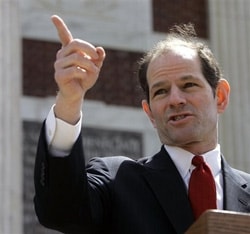 A senior official in Spitzer's office told Gay City News: "The governor is fulfilling his promise to the community and a taking a courageous and historic step toward making equal civil marriage rights a reality in New York."
According to the paper, "A lawyer from the office of the governor's counsel with deliver the bill and an accompanying memorandum, with a statement of support, to the offices of the Assembly speaker and the Senate majority leader. Also, on Friday, the state Department of Civil Service will order a policy change mandating that any entity participating in the state health plan – including hundreds of municipalities and local school districts – recognize out-of-state same-sex marriages for purposes of spousal and family benefits."
Said Alan Van Capelle, executive director of the Empire State Pride Agenda: "Today is a watershed moment in our community's struggle to win the freedom to marry in New York and have our relationships treated the same as any other relationship under the law. We are extremely proud to have a Governor who understands that all New York families need access to the protections and responsibilities that the state provides through marriage. We thank Governor Spitzer for keeping his promise to act on marriage equality and for his commitment to seeing that this bill becomes law."
More on the bill's chances of success, via Gay City News, after the jump…
Via Gay City News:
"According to Gottfried's office, the marriage equality bill now has 43 sponsors in the Assembly and the Empire Pride Agenda's running vote count shows 61 ayes out of the Assembly's 150 members, with only 25 stating their opposition. To achieve a majority of 76, then, gay marriage advocates need to identify at least 15 votes out of the remaining 64. All but three of the marriage supporters are Democrats, who hold a total of 108 seats in the Assembly.
The picture in the Senate is less promising, at least in the near term. There, only 18 of 62 have indicated support, with 24 opposed. A minimum of 14 additional votes, out of the 20 undecided senators must be secured for passage (with the ability of Democratic Lieutenant Governor David Paterson to break a Senate tie currently under scrutiny in the attorney general's office).
Republicans hold a slim two-vote margin in the Senate, and upstate Majority Leader Joe Bruno opposes marriage equality and would block a vote on the issue at this point."