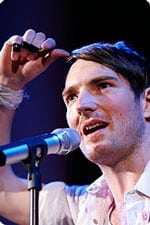 The frontman for the British pop band The Feeling, Dan Gillespie-Sells, came out of the closet in 2006 but just recently began talking about his love life. In a lengthy interview for blog Chart Rigger, Gillespie-Sells talks about pop music, Trevor Horn, and modeling for Marks & Spencer, but blogger J'ason D'luv also cracks the enigma code and gets the singer to open up about his love life.
Says Gillespie-Sells: "I have a boyfriend. This is a fairly recent thing. I started dating someone on New Year's Eve. I've never told anyone before, because no one ever asked directly. This is really pathetic, but it's probably the first proper boyfriend I've really ever had, because I've just totally scuttered around the whole thing for so many years. And I'm 28 years old and I'm, like, talking about my first real boyfriend…but certainly, it's the first relationship that I've been really happy to talk about. I met him once before and then I invited him to a TV show that I was filming on New Year's Eve. It's great being in this business because you can invite people to really posh things! It was someone's house on The Thames, and we were playing the New Year on BBC 1. It was 10 million viewers, and I remember getting ready to play just before the strike of midnight, bringing in 2007, but I was much more nervous about the date than I was about the TV show. It's going really well."
Above, the video for The Feeling track "Never be Lonely".
Chart Rigger Exclusive: In Conversation With The Feeling's Dan Gillespie-Sells [chart rigger]