Scientists: "After-hours" gene explains why some people are night owls.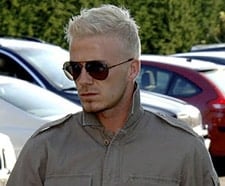 Becks goes blond.

Hundreds protest Vice President Dick Cheney commencement address at Brigham Young University: "Dan Kennelly, a Korean War veteran from Sandy, acknowledged that he and other protesters were outnumbered in Utah County. 'If someone doesn't want to listen, that's fine, but we'll try.' BYU student and war dissenter Diana Smith said she's used to being a minority voice at the Church of Jesus Christ of Latter-day Saints school, 'but while many may disagree, it is usually respectful,' she said. That was the general tenor of the streetside – though as in many protests, a few middle fingers were let loose by angry drivers and indignant protesters. One truck driver screamed to the protesters 'you're all traitors!' while several others in this largely Mormon town opted for the more subtle 'I'll be praying for you!'"

Comeback: Britney Spears plans series of semi-secret shows.

Margaret Cho's new role: dildo spokeswoman.

Vintage FBI strip search training film revealed (NSFW).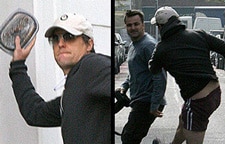 Mad as hell: Hugh Grant beans the paparazzi.

BBC to broadcast mass from predominantly gay church in San Francisco's Castro district this weekend: "Last night a media watchdog said Sunday's radio broadcast was "bound to cause offence" to mainstream Christians. John Beyer of Mediawatch UK, an organisation which campaigns for standards in the media, said he thought it was a mistake to broadcast the service. 'Religious broadcasting, apart from Songs of Praise, tends to focus on the out-of-the-ordinary and having this particular service I think will cause offence to people who feel that such practices are wrong and are taught as such in holy scripture,' Mr Beyer said."

Michael Lucas: Anderson Cooper should be outed.