Sports announcer Billy Packer responds to questions about his comment to Charlie Rose that the sportscaster always "fags out" on him. Rose: "I said he fagged out on me, and it had nothing to do with sexual connotation. I got to know Charlie a number of years ago and have great admiration for his program and intellect. I can assure you I will use that phrase again and I won't think twice about it."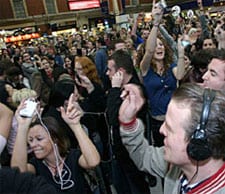 4,000 flash mob dancers take over Victoria train station in London: "A deafening 10-second countdown startled station staff and commuters before the concourse erupted in whoops and cheers. MP3 players and iPods emerged and the crowd danced wildly to their soundtracks in silence – for two hours."

Britney Spears is back out on the town, partying with steak juice.

Gay men receiving HPV vaccine intended for use against cervical cancer: "The prevalence of anal cancer among gay and bisexual men is very high. So that's why some people are looking at this as a possible preventive cure for anal cancer and HPV that causes anal cancer."

John Amaechi to lead West Hollywood gay pride parade as Grand Marshall.

John Mayer: breaking the waves.

Judy Shepard opens OutGames in Calgary, Canada.

Congressional page program thriving after Foley scandal: "Six months later, the Democrats have taken over Congress and a House Ethics Committee investigation concluded that Republican leaders did not break any rules in handling Foley's actions toward the pages. Not only does the House page program remain intact, it has received a record number of applications since the Foley scandal broke, according to the House's Office of the Clerk, which runs the program. A year earlier, the House page program couldn't even fill all of its available slots."

Bush appoints Sam Fox ambassador to Belgium while Congress in recess. Fox was behind the Swift Boat attack ads, and Bush's appointment may be illegal.

Keith Richards denies snorting his father's ashes with cocaine. Rep: "It was an off-the-cuff remark, a joke, and it is not true. File under April Fool's joke."