By a vote of 34-26 (with three Republicans joining 31 Democrats) the Oregon House voted to approve House Bill 2007, a domestic partnership bill which offers same-sex couples a broad range of new rights.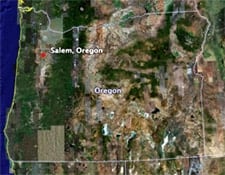 According to All Headline News, "If approved by the state Senate and signed by the governor, House Bill 2007 would put same-sex couples on the same legal footing as married couples when it comes to estate planning and medical decision-making, but stops short of civil union laws on the books in Vermont and Connecticut."
Byron Beck at Williamette Week made note of an ironic incident during today's vote: "House pages tried to block Aimee Wilson, the partner of Rep. Tina Kotek (D-Portland), from being on the floor during the debate because she wasn't a family member. Wilson eventually made it on the floor."
The bill now goes to the Senate, and, if approved, to Governor Ted Kulongoski, who has said he will sign the bill.
The House also approved Senate Bill 2 which bans discrimination against gays, lesbians, bisexuals and transgendered people in employment, housing and access to public accommodations. It already passed the Senate 21-7 on March 21.
You may have missed…
Oregon Gay Rights Bill Hearings Draw Massive, Vocal Crowd