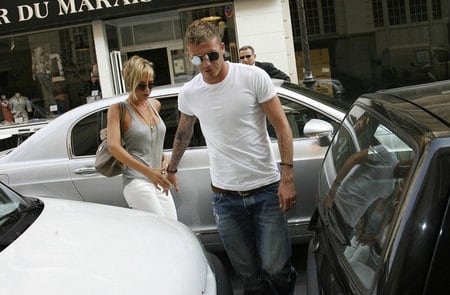 The Beckham Chronicles continue… David and Victoria Beckham were spotted shopping in Paris today, for the wife's 33rd birthday. On display was Beckham's new tattoo, which we've talked about before, and the British tabloids are already heavily into it. If you don't care, just skip ahead…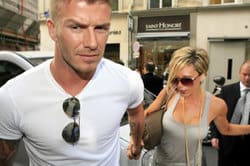 According to the Daily Mail, "The design was needled in two sittings by Manchester based tattoo artist Louis Malloy on Sunday 11th March and Tuesday 13th March, the day Beckham bid farewell to Manchester United fans. It consists of two 'symbolic' pieces that reflect the 'deep turmoil he feels about going to LA' said a source close to the former England captain. Most significant, said the source, are the words 'Pray For Me' inscribed on the inside of his right wrist. 'This is how he feels about the massive move from being an English boy through and through, who has represented his country for many years and is now turning his back on England to embrace America,' the source said."
Another part of the tattoo is a symbol Nike used to good effect this past summer in a Wayne Rooney ad during the World Cup: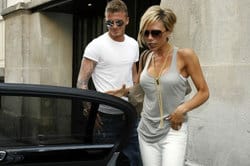 "The three words are inscribed next to another symbolic piece Beckham apparently wanted to reflect who he feels he has been for the past ten years – a Knight Templar, symbolised by a cross. The Templar Knights, recognisable by their white mantle with distinct red cross, are for David the symbols of him and the England team. He asked the tattoo artist to etch the Knight Templar on his arm as he 'feels the knights were the best equipped, trained, and disciplined fighting units of the Crusades, just as he has always tried to be as a footballer representing his team of knights'. The main tattoo on the forearm is a giant angel sentinel, holding a flame in her hand so that her face is illuminated from below. The wings spread round Beckham's arm and merge with the existing tattoos."
Finally, there's the quote from Caligula, noted here earlier, which Beckham wanted in Latin but chose to have printed in English after hearing about how it might come out: "The reason he was advised not to do it in Latin is because the middle word would have been 'dum', which he is understood to have been adamant he did not want on his arm for fear of cruel jibes about his own intellect. The new tattoo's detail is difficult to make out, since it is merged with tattoos which were already there."
In other drossy Beckham news, there's talk that Victoria is thinking about following in Heather Mills' footsteps and competing on Dancing with the Stars.