A bill from Assemblyman Mark Leno that would legalize gay marriage in California by defining it as a civil contract between two persons and allowing religions to opt out from performing ceremonies is set to be considered by the Assembly Judiciary Committee on Tuesday. The bill, which is identical to one floated in 2005, should be passed and arrive at Arnold Schwarzenegger's desk, where it will likely be vetoed, again. Unfortunately, the votes just aren't there to override a veto.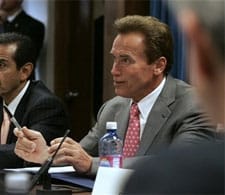 According to the AP, "a spokeswoman for Schwarzenegger, Sabrina Lockhart, said the governor's position hasn't changed." They report that Schwarzenegger recently reiterated his opinion that the measure should instead be on the ballot, telling a group of high school students: "I don't want, as governor, to go against the will of the people."
Last week, California's Supreme Court received briefs challenging the constitutionality of the state's ban on same-sex marriage. That case is likely to be decided later this year, a decision that will likely impact any related legislation under consideration.
Governor vows to veto gay marriage bill again this year [press telegram]