Dry: Australia the first global warming victim? "Australia has warned that it will have to switch off the water supply to the continent's food bowl unless heavy rains break an epic drought – heralding what could be the first climate change-driven disaster to strike a developed nation."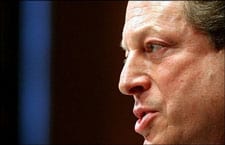 UK paper: Shadow campaign team reportedly in place for Gore presidential run. "Mr Gore, President Bill Clinton's deputy, has said he wants to concentrate on publicising the need to combat climate change, a case made in his film, An Inconvenient Truth, which won him an Oscar this year. But, aware that he may step into the wide open race for the White House, former strategists are sounding out a shadow team that could run his campaign at short notice. In approaching former campaign staff, including political strategists and communications officials, they are making clear they are not acting on formal instructions from Mr Gore, 59, but have not been asked to stop."

The paparazzi are dying to get a look at Heath Ledger as The Joker. More…

New surfboard offered with headlights: "A headlight is activated when the nose of the board goes up to help you see the waves, and a light in the tail helps illuminate your wake so other surfers can see you…" It's also a very helpful tool for deep sea predators searching for their next meal.

Nearly a quarter of Australians don't want gays as neighbors: "The figure was exceeded by survey respondents in Austria (26.7 per cent), Greece (26.8), the Republic of Ireland (27.5) Italy (28.7) and Portugal (25.6). And Northern Ireland came out on top, with 36 per cent saying they did not want gay neighbours. The least prejudiced nationality in the survey was Sweden, where only 6 per cent said they would object."

Prince Harry targeted for kidnapping by Iraqi militia groups.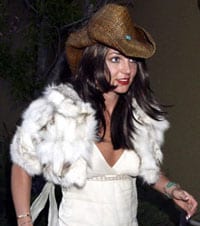 Britney Spears: this ain't my first time at the rodeo.

Seattle Gay Pride looking for a venue due to unpaid bill from last year.

Speed Racer: Eric Bana survives motor speedway crash.

NY comedian Mike Daisey hit with Christian protest: "I'm still dealing with all the ramifications, but here's what it felt like from my end: I am performing the show to a packed house, when suddenly the lights start coming up in the house as a flood of people start walking down the aisles–they looked like a flock of birds who'd been startled, the way they all moved so quickly, and at the same moment…it was shocking, to see them surging down the aisles. The show halted as they fled, and at this moment a member of their group strode up to the table, stood looking down on me and poured water all over the outline, drenching everything in a kind of anti-baptism." (video)