Separate but equal still not so equal. New Jersey couples who have formed civil unions encountering denials of coverage from insurance companies: "I called to ask if they were going to be honoring that law and providing me with the same coverage that they would any married couple, and I was told no. The woman on the phone actually said to me: 'We do not have to obey New Jersey law.'"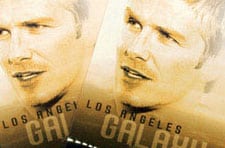 He's the ticket: Beckham set to take America.

The Washington Post looks at gays at the State Department. Foreign Service general director George Staples: "They serve among us, and it's not an issue," George Staples, director general of the Foreign Service, said recently. "We really don't track or follow these kinds of things at all. I have no way of knowing."

Gay film editor and actor James Lyons dies at 46. Worked on Todd Haynes films Velvet Goldmine, Safe, Far from Heaven, and Poison: "The cause was squamous cell cancer, which followed more than a decade of treatment for H.I.V., his brother Patrick said….A member of Act Up, the AIDS awareness organization, in the 1990s, Mr. Lyons said he saw film as a medium to spread awareness of the disease. At his death, he was preparing to direct a short film about Andy Warhol."

Royal dumping: Prince William splits with girlfriend Kate Middleton.

Obama fundraising list shows shift in cash away from Clinton: "Among the biggest fund-raisers for Mr. Obama's campaign are as many as a half-dozen former guests of the Clinton White House. At least two are close enough to the Clintons to have slept in the Lincoln bedroom. At minimum, a dozen were major fund-raisers for President Bill Clinton. At least four worked in the administration and one, James Rubin, is a son of a former Clinton Treasury Secretary, Robert E. Rubin. About two dozen of the top Obama fund-raisers have contributed to Mrs. Clinton's Senate campaigns or political action committee, some as recently as a few months ago." The money race…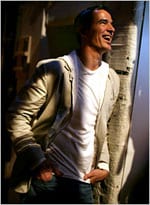 The NYT takes a look at Jerry Mitchell, the choreographer-turned-director behind the Broadway musical adaptation of Legally Blonde: "Mr. Mitchell and his partner, Erik Sherr, an actor, have been together for six years. Perhaps because he is not tortured about his sexuality, as both Bennett and Robbins were, he is not torturing either. Mr. Luftig, who came to San Francisco to keep an eye on his novice director, said there were no prima donna meltdowns; tech rehearsals, when shows often hemorrhage cash because of a director's disorganization, finished ahead of schedule."

Delta Lambda Phi: Gay frat opens at University of Wisconsin Madison.

STUDY: Gay men who use crystal meth five times more likely to test HIV positive than those who don't. "The center also found that 25% of the 6,360 MSM it tested for HIV and other sexually transmitted infections in 2006 reported using crystal meth at least once, compared with 18% of the 5,300 MSM tested in 2005. Mike Rizzo, the center's manager of crystal meth recovery services, said 43% of people newly infected with HIV report some meth use."

NYDN Widdicombe: "Which R&B singer likes to drop ecstasy in the studio and fool around with his posse as if it doesn't count as gay because they're all taking drugs? Wonder if he knows there's security camera footage?"

Enough already. John Kerry leaves possibility open of entering the White House race again.