Ted "Completely Heterosexual" Haggard moved out of Colorado on Wednesday, to set up home in Phoenix, Arizona. It had been rumored that Haggard and his wife would be moving to Iowa or Missouri.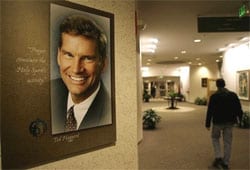 The Rev. H.B. London of Haggard's New Life Church told the Associated Press he was glad that the deposed pastor was gone: "When he moved out of town today, there was a kind of relief on the part of the church that life can get back to normal. For the Haggards, it is the beginning of a huge new chapter. It's a brand new start for them, the beginning of a new beginning." Attendance at New Life Church has reportedly fallen 20% since the Haggard scandal began.
That new beginning will apparently include joining another church. This time it's Phoenix First Assembly of God, the church where televangelist Jim Bakker found himself after doing time in federal prison. The church leader, Rev. Tommy Barnett, reportedly told his congregation that Haggard was on his way.
A life change is in store for him, London told the AP: "Once you were in charge of a megachurch and a mega-staff and making mega-decisions, now your main decision is where you're going to school, where to eat and what you're going to do on your day off."
And a day off is a fabulous time for a massage.