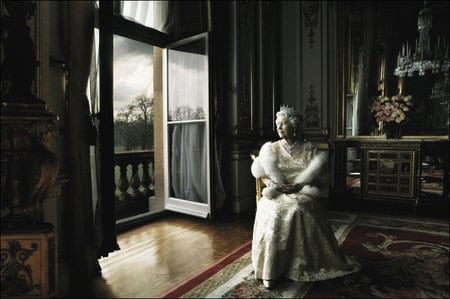 For more on the British royals, click here.
Annie Leibovitz has released a new portrait of the Queen of England ahead of the monarch's six-day trip to the United States. Leibovitz said she wanted to make a very traditional portrait. Critics are divided.
British critic William Feaver said, "I think on these occasions tradition is good. You do not want to see Her Majesty breakdancing or bathing in a vat of asses' milk. [The portrait is] a post-Oscar type production. It is the stand-in for Dame Helen Mirren in her own location being rather commanding but not really at ease with this army of American photographers glamming her up for Vanity Fair."
Washington Post critic Henry Allen said: "It looks like something you might see in a catalogue offering the Queen herself for sale. The Queen's face has an utterly public quality that approaches, to me, dead, with all the personality of a marble bust of George Washington. I wonder if there isn't a line of people having to wait to have their picture taken in the same chair, the same costume, perhaps one of those little cut-outs you stick your head through."
The Daily Mirror tabloid called it "Queen's Mirren Image".
You may have missed…
Prince Harry Turns 21 [tr]