Transgender Italian politician Vladimir Luxuria landed in Moscow to join activists and supporters at Moscow Gay Pride on Sunday and was granted a visa by authorities at the airport.
Luxuria told UK Gay News she accepted the invitation after meeting Russian gay activist Nikolai Alekseev at Turin Pride last June.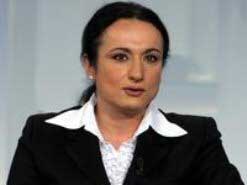 She said she felt her presence was important "I know what it means to be beaten up. I experienced it during my adolescence just because I decided to be sincere and not to hide myself in the deep south of Italy. I had to pay of myself up to my blood. I think that such an important city where there are so many gays and lesbians should not be ashamed of having a pride. It's one day where some people can say that they are tired of hiding themselves. They want to show their faces, their body and their rights to be respected in the centre of this capital, which seems to imitate western country just in the consumerism …they are anxious to have new technology. Western culture is also civil rights for our community and not only consumerism."
Given the violent history of the gay pride events in Moscow (German MP Volcker Beck was hit with a brick by protestors last year), Luxuria said that yes, she was a bit afraid: "Of course I am. I would be hypocrite not to say that. I just had my nose remade and I hope there won't be someone to ruin the result! Seriously, I think that when I was 16, when I decided to come out and to win the fears, I thought the price of freedom is always worth the trouble. I think the Russian authorities should be more open about this issue."
Protestors have again threatened gay pride events in Moscow this year. Earlier this month they interrupted a press conference of organizers, yelling "Moscow will drown in gay blood." Mayor Yuri Luzhkov has branded the parades "satanic".
She Promises, She Delivers – Vladimir Luxuria in Moscow for Gay Pride [uk gay news]
You may have missed…
Russian Homophobes Warn: "Moscow will drown in gay blood" [tr]
Moscow Mayor Yury Luzhkov: No "Satanic" Gay Pride Parades [tr]