Ann Coulter's hate speech is raising lots of dough for John Edwards, according to the Associated Press: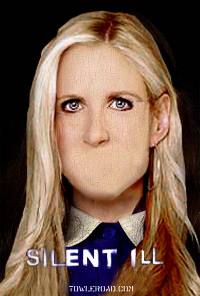 "When Coulter appeared Tuesday on MSNBC's 'Hardball,' Elizabeth Edwards called in to ask Coulter to stop making personal attacks on her husband. The exchanged deteriorated, with Coulter shouting over Mrs. Edwards and demanding that the campaign stop using her name to raise money if they want her to stop personal attacks. Response to the controversy was so large that it repeatedly crashed the server for MSNBC's political blog Wednesday.
…Mrs. Edwards followed up with an e-mail to supporters Wednesday morning that included a clip of their exchange and a donation request. The campaign also sent a text message to supporters' cell phones, asking them to call to hear a recording of the clip and an appeal from Mrs. Edwards to donate. The campaign said it raised more money this week than from any previous e-mail campaign but declined to give a total."
Maybe that will shut up her up. Unlikely.
You may have missed…
Elizabeth Edwards to Ann Coulter: Stop the Personal Attacks [tr]