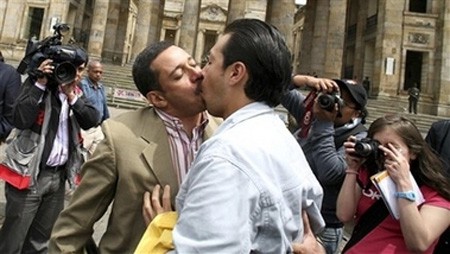 A small group of gay and lesbian activists and supporters gathered before Bogota's Congress yesterday after an evangelical lawmaker used a procedural vote to derail a proposed civil union bill that last week had been approved by a vote of 62-43.
The wily move was made when many of the bill's supporters were absent, and the bill was defeated by a vote of 34-29. According to the AP, "The call for individual votes was unusual, and some said unprecedented. Parties usually vote as blocs on the final, reconciled versions of bills in Colombia's legislature. Sen. Armando Benedetti, a sponsor of the bill, vowed to restart the legislative process when Congress reconvenes on July 20, and he criticized [President Alvaro] Uribe (who is a supporter of the bill) for not defending the initiative more forcefully."
Even Gwen Stefani showed up to protest. See photo, above right.