The bus driver who threw two teenage lesbians off the bus for kissing in Portland will be disciplined, the transit authority announced. TriMet General Manager Fred Hansen: "Removing the girls from the bus was not consistent with our policy. I want to reiterate that we welcome all riders on our system. TriMet sincerely apologizes to the girls and their families for this incident."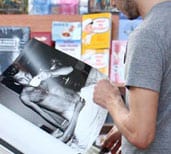 Who's got a hankering for flesh and coffee table books?

"Stare decisis" promises laid aside as Roberts' Supreme Court begins overturning precedents: "It was the second time the Roberts court had overturned a precedent, and the first in a decision with a divided vote. It surely will not be the last."

Report: Mario Cantone and Ross Matthews (Ross the intern) under consideration to fill Rosie O'Donnell's spot on The View.

Shameful: Missing soldier's wife faces deportation. (via americablog)

The imaginary relationship between Jake Gyllenhaal and Reese Witherspoon has come to a close.


Glacial lake in Chile disappears suddenly: " Park rangers at Bernardo O'Higgins National Park said they found a 100-feet-deep crater in late May were the lake had been in March. Several large pieces of ice that used to float atop the water also were spotted…One theory is the water disappeared through cracks in the lake bottom into underground fissures. But experts do not know why the cracks would have appeared because there have been no earthquakes reported in the area recently, Romero said. A river that flowed out of the lake was reduced to a trickle."

Bush vetoes stem cell measure…again: "'Destroying human life in the hopes of saving human life is not ethical,' Mr. Bush said in a brief ceremony in the East Room of the White House. He called the United States 'a nation founded on the principle that all human life is sacred.'" Meanwhile, 14 U.S. troops have been killed overseas in the last 48 hours in Bush's illegitimate war. How's that for sacred?

"Gay Life" celebrates composer David Del Tredici's identity as a gay man.

Homophobic Moscow Mayor Yuri Luzhkov looks set to be reappointed for a fifth term.