The Independent reports that Brian Paddick, who retired from his position as Deputy Assistant Commissioner of London's Metropolitan Police at the end of May, has been given a six-figure book deal and will be writing a book about his career: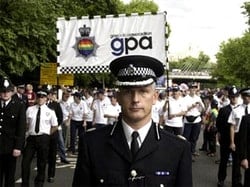 "Paddick met the editorial director of Simon & Schuster, Andrew Gordon, in September last year. Gordon has bought the rights and arranged for Paddick to pen the book with the crime writer Kris Hollington. 'Brian has left the force and has no restraint on what he can say apart from the libel laws," Gordon tells me. "He'll say exactly what he thinks about how the Met is run and how it might be better run in the future.'"
The book will hold potentially explosive revelations about the inner workings of London's police force. Paddick went up against Ian Blair following the killing of Jean Charles de Menezes, challenging Blair's statement that he didn't know an innocent man had been killed until 24 hours after it happened.
One of Paddick's acquaintances told the paper that the former commander has a habit of not holding much back: "He's so indiscreet that I'm not sure how much will be left for the book."