Anthony Niedwicki and Waymon Hudson, the couple at the center of the incident at Fort Lauderdale airport in early May in which a skycap read an anti-gay passage from the Bible over the airport's PA system, have formed a non-profit to counter hate and discrimination.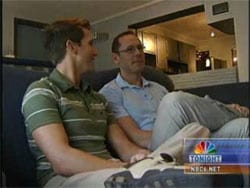 Niedwicki told Towleroad that a few things have happened since the incident and the intense media attention that it generated. The couple has received hate mail and Hudson "has been spit on and called fag when he has been out in public." On the flipside, they have "received lots of support and thanks from around the country for pushing the issue and taking a stand."
Niedwicki says that they wanted to pass along some of the lessons they learned from the experience and have started a website and non-profit organization called Fight OUT Loud to assist others when they encounter anti-gay hate and discrimination. Niedwicki notes that at the time of the Fort Lauderdale incident they really found there was nowhere to turn with their complaint, so they hope to fill that void.
They have also set up a MySpace page to help publicize their efforts.
Niedwicki told us, "The web site has three basic functions: to use our experience as a guide for individuals who find themselves in similar situations, to provide advice and support on how to confront incidents and roadblocks that they may encounter, and to set up an action email alert system to mobilize our community and its supporters when immediate action is required. We found no real organization that was available to help people who face individual incidents of discrimination or hate. Most organizations tend to work toward legislative or legal goals, with no real support for the everyday discrimination that individuals confront."
They are in the process of applying for 501c(3) charitable status, which would make all sponsorship and donations tax-deductible.
Fight OUT Loud [official site]
Fight OUT Loud [myspace]
You may have missed…
Anti-Gay Ft. Lauderdale Airport 'Prankster' ID'ed as Skycap [tr]
Breaking: Ft. Lauderdale Anti-Gay Airport Broadcaster Caught… [tr]
Ft. Lauderdale Airport Biblical Broadcast Under Investigation [tr]
Gay Couple Receives Biblical Threat at Florida Baggage Claim [tr]