By a vote of 16-5, Governor Eliot Spitzer's gay marriage bill was approved by the New York State Assembly's Judiciary Committee last night. All five opposed were Republicans.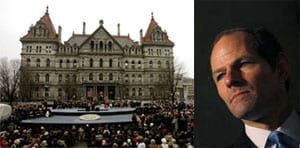 The bill is undergoing an historic debate in the New York State Assembly as I write this post. If you can get an audio or video stream, you can listen here.
The NYT City Room notes: "It's worth putting this in context. According to the Empire State Pride Agenda, only in California has legislation to pass same-sex marriage been passed by one or both houses of a state legislature. (Both the California senate and assembly did so, but Governor Arnold Schwarzenegger vetoed the bill.) In Connecticut, a same-sex marriage bill passed a legislative committee but never made it to the floor. Massachusetts legalized gay marriage through a court decision rather than through legislation."
The Senate is where the bill faces its toughest challenge as a majority there remain staunchly against it. Republicans hold a two seat advantage.
You may have missed…
Gay Marriage Poll Reveals Promising Stats for New York [tr]
Massachusetts Judge Validates Some NY Gay Marriages [tr]